Lesetipp: Toni Morrison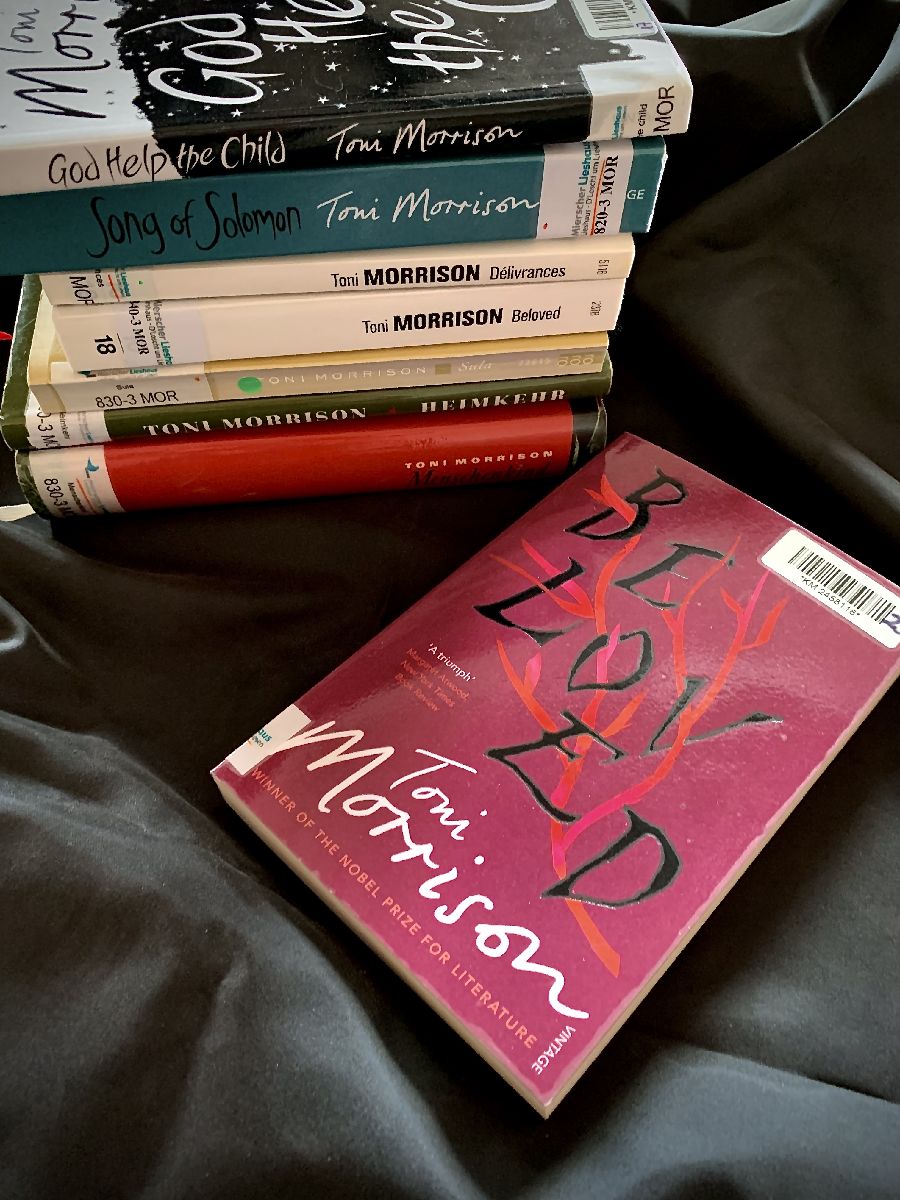 DE
Entdecken Sie die packenden Werke von Toni Morrison, einer amerikanischen Schriftstellerin, die für ihre Erforschung der Erfahrungen der Schwarzen, insbesondere der schwarzen Frauen, bekannt ist. Toni Morrison, eigentlich 
Chloe
 Anthony 
Wofford
, wurde am 18. Februar 1931 in 
Lorain
, Ohio, geboren und verstarb am 5. August 2019 in der Bronx in New York City. Morrison hat kraftvolle Romane geschaffen, die Leser auf der ganzen Welt mitreißen, und erhielt 1993 den Nobelpreis für Literatur und.


Ihr erstes Buch, "Sehr blaue Augen", taucht in die Qualen eines schwarzen Mädchens ein, das Opfer der Schönheitskriterien der Weißen wird und verzweifelt blaue Augen haben will. Mit "Menschenkind", das den Pulitzer-Preis gewann, entführt uns Morrison in die ergreifende Geschichte einer entlaufenen Sklavin, die eine herzzerreißende Entscheidung trifft, um ihre Tochter vor einem Leben als Sklavin zu retten.

Morrison erforscht auch die Themen Freundschaft, Identität und Rassenkonflikte, vorwiegend in ihren Werken "Sula" und "Solomons Lied". Ihr einzigartiger, multiperspektivischer Schreibstil verleiht ihren Geschichten eine tiefe Textur und macht sie leicht lesbar.

Tauchen Sie ein in die Welt von Toni Morrison, einer Autorin, die mit ihrer kraftvollen Stimme und ihrer Erforschung der komplexen schwarzen Identität die zeitgenössische Literatur geprägt hat.

Im Mierscher Lieshaus sind viele ihrer Werke auf Englisch, Deutsch und Französisch erhältlich, darunter der von der Kritik gefeierte Roman "Menschenkind" sowie "Solomons Lied" und "Sula".
FR
Découvrez les œuvres captivantes de Toni Morrison, écrivaine américaine réputée pour son exploration de l'expérience noire, en particulier celle des femmes noires. De son vrai nom Chloe Anthony Wofford, elle était née le 18 février 1931 à Lorain, Ohio, et décédée le 5 août 2019 dans le Bronx à New York. Lauréate du prix Nobel de littérature en 1993, Toni Morrison a créé des romans puissants qui ont captivé les lecteurs du monde entier.
Son premier livre, « The Bluest Eye », plonge dans les tourments d'une jeune fille noire victime des critères de beauté des Blancs et qui veut désespérément avoir les yeux bleus. Avec « Beloved », qui a remporté le prix Pulitzer, Morrison nous entraîne dans l'histoire poignante d'une esclave en fuite qui prend une décision déchirante pour sauver sa fille d'une vie d'esclave
Morrison explore également les thèmes de l'amitié, de l'identité et des conflits raciaux, notamment dans ses œuvres « Sula » et « Song of Solomon ». Son style d'écriture unique, avec des perspectives multiples, donne une texture profonde à ses histoires et les rend faciles à lire.
Plongez dans l'univers de Toni Morrison, un auteur dont la voix puissante et l'exploration des complexités de l'identité noire ont marqué la littérature contemporaine.
Une douzaine de ses ouvrages en anglais, allemand et français sont disponibles au Mierscher Lieshaus, dont l'oeuvre « Beloved », acclamée par la critique, ainsi que « Song of Solomon » et « Sula ».
Discover the captivating works of Toni Morrison, an American writer renowned for her exploration of the black experience, particularly that of black women. Toni Morrison, whose real name was Chloe Anthony Wofford, was born on 18 February 1931 in Lorain, Ohio, and died on 5 August 2019 in the Bronx, New York. Winner of the Nobel Prize for Literature in 1993, Morrison has created powerful novels that have captivated readers around the world.
Her first book, "The Bluest Eye", plunges into the torments of a young black girl who falls victim to white beauty standards and desperately wants to have blue eyes. With "Beloved", which won the Pulitzer Prize, Morrison takes us into the poignant story of a runaway slave who makes a heartbreaking decision to save her daughter from a life of slavery.
Morrison also explores themes of friendship, identity and racial conflict, notably in her works "Sula" and "Song of Solomon". Her unique wrtiting style with multiple perspectives gives a deep texture to her stories, and makes them easy to read.
Immerse yourself in the world of Toni Morrison, an author whose powerful voice and exploration of the complexities of black identity have left their mark on contemporary literature.
You can find a dozen of her works in English, German and French at the Mierscher Lieshaus, including the critically acclaimed novel "Beloved" (available in those 3 languages), as well as "Song of Solomon" and "Sula".
Sources:
https://www.britannica.com/biography/Toni-Morrison
https://www.lemonde.fr/disparitions/article/2019/08/06/l-ecrivaine-americaine-toni-morrison-prix-nobel-de-litterature-est-morte_5497118_3382.html
https://en.wikipedia.org/wiki/Toni_Morrison
https://ahittler.wordpress.com/style/
https://www.shmoop.com/study-guides/literature/bluest-eye/analysis/writing-style